Teamwork between S. Norton and its customer AR Demolition successfully completed the demolition and clearance of a redundant processing plant at a remote granite quarry on the west coast of Scotland.
S. Norton provided specialist support for the Midlands demolition company in processing and transporting more than 1,500 tonnes of scrap steel by boat from the Glensanda Super Quarry, near Oban.
Significant investment in upgrading and constructing new facilities by the quarry owner Aggregate Industries had left a former workshop, crusher house, conveyor system and 'glory hole' building earmarked for demolition. With huge reserves on site, the now-redundant structures were preventing progress on further extraction and needed to be removed.
The quarry's isolated location on the banks of Loch Linnhe meant the only viable access solution for heavy plant and equipment was by barge from the mainland to the quarry port, an hour's sail away.
Working with AR Demolition's oxy cutting team, S. Norton's operatives used thermic lances to process the oversize scrap pieces into manageable standard sizes of 5ft x 2ft to allow for suitable storage on the ship and best price for the customer.
The 20-metre high crusher building had housed some very heavy castings that were too large to be dealt with by the excavator-mounted shears. Weighing in excess of 50 tonnes, these required specialist removal and disposal by the AR and S. Norton teams.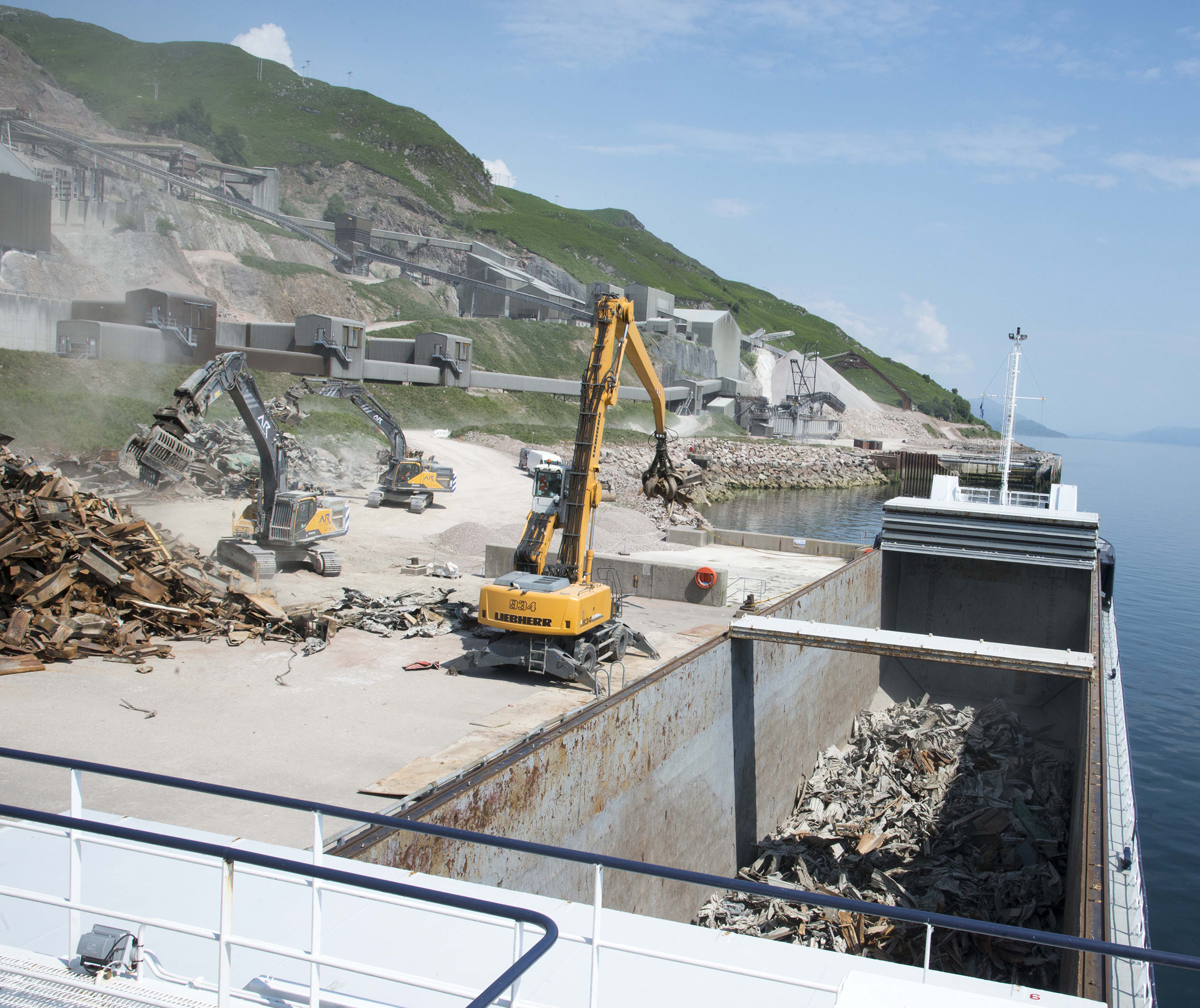 To remove the material from the port, AR Demolition had considered using bulk tippers; however this would have increased the time for the project and massively impacted traffic on the local roads.
Having looked at the alternatives, S. Norton & Co was asked to supply a 3,000-tonne capacity coaster to ship the material to our Liverpool base for further processing. The teams loaded the vessel in under two days.
S. Norton's Contracts Manager Kenny McKeen explained how we were called in for our specialist expertise in processing scrap and our ability to arrange the vessel to carry it back to Liverpool for subsequent export.
He said: "It was a highly unusual job due to the remoteness and inaccessibility of the site. We sent men with burning equipment and lances who assisted in the processing and loading of the metal and worked as part of AR's team.
"One of the key challenges was the draft in the bay where the vessel docks and the depth of water was a major consideration, requiring close liaison with the harbourmaster. It was the furthest distance we'd ever sent our men on a project and everything went as smoothly as clockwork!"
Commenting on what had been one of their 'most complex and challenging projects' to date, A R Demolition Managing Director Richard Dolman said: "S. Norton's specialist expertise had been extremely helpful, especially with cutting up the larger pieces of metal that required particular skill. They also provided valuable assistance with loading the freighter they had chartered to transport the scrap metal to Liverpool."
He added: "The quarry's remote location presented unusual logistics in that everything had to be transported by water; that made a relatively normal project unusual!"